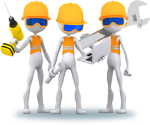 Thank you for your interest in Smartbuild Inc.
If you are interested in construction of durable, resilient, buildings with minimal environmental footprint, innovative building and HVAC technologies, we are interested in hearing from you.
No matter your skill level, we believe in ongoing education and skill development.
We offer a friendly, challenging and rewarding work environment to self motivated, hard working and conscientious individuals who bring integrity and commitment to their work lives.
Please use this application form or send your resume and cover letter to the address provided. Your information will not be shared or sold.